The Principal, in a simple Investiture Ceremony, pipped the Top Boy, Top Girl and House Captains of the Home School as well as the Junior Red Cross office bearers for the academic year 2005-06. Flags and badges were given to the House Captains.
Top Boy - Dhruva H.M.
Top Girl - Poorna M.
House Captains
Courage - H.R. Manohar Rao, Vibha B.R.
Loyalty - Mohamad Adnan, Amulya M. Dev
Service - Aditya Krishna, Shilpa R.
Honour - Manohar Sharma, Lavanya P. Kumar
Junior Red Cross
President - N. Kaustabha Bharadwaj
Vice President - Swathi K.
Secretary - Prajith M.V.
Joint Secretary - Sheena
Treasurer - Rahul Srinivasan
Joint Treasurer - Swathi M.
Rank Holders for 2004-05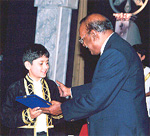 The 'Best Scholar' Trophy for the year 2004-05 for classes 1 to 7 were presented to the respective students during a presentation ceremony on Founder's Day, which falls on 30 July. The parents of the Best Scholars were felicitated on the stage with bouquets being given to them by the House Captains.
The winners of the 'Best Scholar' Trophy are
Chethan B.R. - Standard 1A
Rachana Radhakrishnan - Standard 1B
Karthik S. - Standard 2A
Manasa S. - Standard 2B
Ranjana S. - Standard 3A
Saranya S. - Standard 3B
Amitesh Ramesh - Standard 4A
Abhishek Shetty - Standard 4B
Tushar - Standard 5A
Sunil Cavale - Standard 5B
Swathi M. - Standard 6A
Poorna M. - Standard 6B