As the name implies, The Home School is a school where love, kindness and respect for children can be found in abundance. During childhood and youth, it is school which makes a marked impression on young minds. The Principal, teachers and staff of The Home School respect each child as an individual and take great care in educating them and fostering their talents. The Home School reached a major milestone this year by completing 75 years of its existence.

The Past
The Home School is amongst the oldest schools in Bangalore, India. Ms. Robinson, a North American missionary, felt Basavanagudi, a locality of Bangalore, and its neighbouring areas required a good school. Her father, Bishop Robinson, had started Baldwins High School, Bangalore. Ms. Robinson had been the Principal there for some years. In 1930, Ms. Robinson alongwith Ms. Donne, a British lady started The Home School.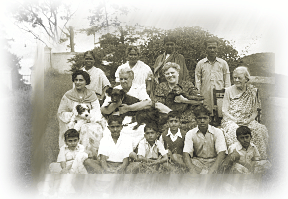 At that time, the school had only Kindergarten with three or four students and three teachers. Ms. Robinson and Ms. Donne strived to provide education on par with international standards at a very nominal fee. They paid individual attention to each and every student. Within a year, the school had 150 students. A few traditions that were started then are observed till today. These are Christmas Tree, taking children on picnics, morning prayer, scouts and guides and singing with the piano.



The Present
Today, The Home School imparts education from Kindergarten to the seventh standard for boys and girls. The school follows the Karnataka State syllabus with a public examination in the seventh standard.





The present Principal, Mr. R. Venkatachalam joined the school as a student in 1942. Upon completing his education, he became the Headmaster in 1961 and has been the Principal since 1989. Dedicated to the ideals of Miss Robinson and Miss Donne, he aims to provide excellent education that keeps pace with the changes happening in a technologically advanced world. The Principal takes personal interest in every aspect of the school. His prime concern is the welfare of the children and them growing into successful individuals with well grounded personalities.
There are several noteworthy points that the school takes pride in.
The school has a managing commitee comprising of eminent persons.

There is no donation.

The maximum strength of every class section is 30.

Free special classes are held for children who are below average.

The school has trained computer staff and a state of the art computer lab.

Computers are taught compusorily from the first to seventh standards.

Students learn volleyball, throwball, shuttle badminton, table tennis and athletics.

Every Saturday, parents of students can meet teachers individually to find out about their child's performance.

On Founder's Day, after honouring the founder of the school, every child can exhibit his/her talents in singing, dramatics, dancing, painting etc.

There is a free annual picnic for all students.


The Junior Red Cross managed by students helps the poor and needy, thus instilling the right values in children.